PURIM GIFT PACKAGES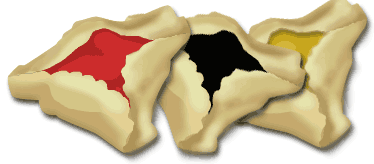 The Holiday of Purim is marked, in Jewish tradition, by the giving of gifts of snacks and Purim treats. Hamentashen, candy and drinks are traditionally given to friends and family, as a way of building the sense of Holiday joy. This tradition is called Mishloach Manot.
Chabad at Bradley is giving Bradley parents a chance to send a Mishloach Manot package to your son or daughter at Bradley. Delight your student with a gift of a Hamentash, candy and soft drink, in the Purim tradition. The Purim gifts will be delivered on Sunday, February 24, the day of Purim.
In order for us to deliver the care packages in time for Purim, we need to receive the orders by Wednesday, February 20th.
Student's Name:

Dorm & room number or off-campus address (GIFT PACKAGES CAN BE DELIVERED TO ADDRESSES IN THE CAMPUS AREA):

Student's Email:

Student's Cell number:

Sender's Name:
Sender's Email:
Sender's Phone:
Card - Use this space to compose a Purim message to the recepient:

Comments:

PAYMENT SECTION
PAY BY CREDIT CARD
Donation Amount: $36 (will be delivered in a special Purim basket) $18.00 (will be delivered in a Purim Box)Other amount
Card Number
Exp Date CIV/CID/CV2
PAY BY CHECKPlease mail me an invoice
PLEASE PROVIDE MAILING ADDRESS FOR EITHER CREDIT CARD OR CHECK PAYMENTS
Mailing address:
City State Zip


Please type "Yes" in the box below and press "Submit."
All the information is correct